Farming Simulator 22 sera le thème principal de la FarmCon de cette année. Cet événement en ligne organisé par le développeur et éditeur GIANTS Software sera streamé du 21 au 23 juillet sur sa chaîne Twitch. De nombreuses informations concernant le jeu et sa technologie y seront dévoilées. Ainsi, tout le monde est invité à participer gratuitement à l'événement pour en apprendre davantage sur le nouvel épisode de la franchise Farming Simulator, qui sortira au quatrième trimestre 2021.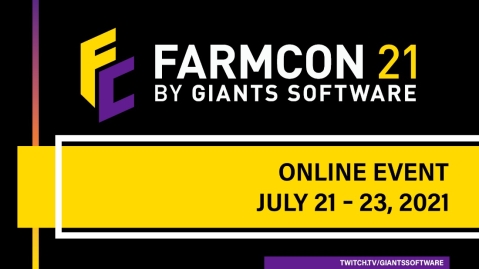 Dans les coulisses de Farming Simulator 22 :
Farming Simulator 22 comprendra de nombreuses fonctionnalités de gameplay inédites, ainsi que des améliorations techniques, le tout présenté lors de la FarmCon 21. Les spectateurs découvriront plus en profondeur les cycles saisonniers, les nouvelles cartes, les améliorations générales, ainsi que tout un tas de nouvelles informations.
Des interviews avec les développeurs et les partenaires, des tombolas, des sessions de questions/réponses et bien plus seront diffusées pendant trois jours. De plus, les fans auront la possibilité de discuter directement avec les développeurs sur des serveurs Discord spécialement consacrés à la FarmCon.
Atteindre les fans du monde entier :
« Nous sommes déjà impatients de présenter notre premier jeu auto-édité lors de notre propre événement : la FarmCon », déclare Christian Ammann, PDG de GIANTS Software. « Cette année, bien que nous aurions aimé rencontrer en personne les fans et nos partenaires, nous profitons de cette opportunité pour atteindre le plus de fans possible de Farming Simulator, et ainsi présenter notre nouveau jeu à tout le monde ».
Le calendrier et tous les détails de la FarmCon 21 seront révélés très prochainement.

FarmCon est l'événement communautaire officiel et annuel consacré aux moddeurs, développeurs et joueurs de la série Farming Simulator. Depuis 2016, les fans peuvent se rencontrer à la FarmCon pour échanger entre eux, ainsi qu'avec les membres de l'équipe de GIANTS Software.
Pour plus d'informations, rendez-vous sur le site officiel de Farming Simulator et sur le site presse de GIANTS Software.
About GIANTS Software
GIANTS Software is an international video game developer and publisher from Switzerland established in 2004 and known worldwide for creating the popular Farming Simulator series. The team with offices in Switzerland (Zurich), Germany (Erlangen), USA (Chicago) and Czech Republic (Brno) is very committed to maintain close contact to the agricultural industry and to engage with the community. For more information please visit
giants-software.com
About Koch Media
The Koch Media Group is a global developer, publisher and distributor of video games, VR games, gaming hardware and merchandise.

The group's publishing activities, marketing and distribution extend throughout Europe, America, Australia and Asia. Koch Media has more than 25 years of experience in the digital media business and has risen to become a leading global publishing partner. The Koch Media Group runs a multi-label strategy with fully owned publishing units such as Deep Silver, Milestone, Vertigo Games and Ravenscourt, publishing games for consoles, PC and VR platforms across all physical and digital channels.

Additionally, as global publishing partner Koch Media has formed long-term multi-national publishing collaborations with numerous game publishers including Activision Blizzard, Bethesda, Capcom, CI Games, Giants Software, Kalypso, Koei Tecmo, Konami, Paradox, Sega, SNK, Square Enix, Techland, Tripwire, Warner Bros, and many others.

With its parent company in Höfen, Austria, and the Publishing HQ in Munich, Germany, Koch Media owns local publishing companies in Germany, UK, France, Spain, Italy, Sweden, the Netherlands, Austria, Switzerland, Poland, Australia, the United States as well as Japan and Hong Kong.

The Koch Media Group owns nine game development studios: Deep Silver Volition (Champaign, IL / USA), Deep Silver Dambuster Studios (Nottingham / UK), Deep Silver Fishlabs (Hamburg / Germany), Warhorse Studios (Prague / Czech Republic), Milestone (Milan / Italy), Voxler (Paris / France) , Flying Wild Hog (Warsaw, Kraków, Rzeszów / Poland), Free Radical Design (Nottingham / UK) and Vertigo Games (Rotterdam /The Netherlands). Additionally, the Koch Media Group collaborates with numerous independent development studios around the world.

Part of the Koch Media Group is also Koch Films, a leading European independent film distributor with business primarily in Germany, Switzerland, Austria and Italy as a cinema, TV, online and Home Entertainment distributor. The Koch Media Group also owns Gaya Entertainment, a leading video game merchandise company in Munich, Germany, and the Quality Assurance Facility in Olomouc, Czech Republic.

Koch Media is an Embracer Group company.