FALLEN LEGION REVENANTS EST MAINTENANT DISPONIBLE SUR PLAYSTATION®4 ET NINTENDO SWITCH™ !
Découvrez le trailer de lancement sur la chaîne YouTube de NIS America, ici : https://youtu.be/qrefWRUQ5ps.
NIS America est fier d'annoncer aujourd'hui la sortie de Fallen Legion Revenants, la suite de la duologie Fallen Legion: Sin of an Empire et Fallen Legion: Flames of Rebellion, sur PlayStation®4 et Nintendo Switch™.

À propos du jeu :
Dans un monde recouvert de miasmes, un château volant est le dernier refuge pour l'humanité. Des bêtes mutées par la peste meurtrissent la terre tandis que le château de Welkin est mis en quarantaine face aux horreurs qui s'abattent ici-bas. Lucien, un politicien charismatique protégé par les murs du château, découvre un livre ancien où il apprend l'existence des « Exemplars », des armes qui peuvent se transformer en soldats doués de conscience. Il s'associe à Rowena, une revenante déterminée à trouver un moyen de revenir à la vie pour élever son fils. C'est à contrecœur que Lucien et Rowena forment un pacte afin de renverser le tyran fou contrôlant Welkin.

Caractéristiques :
Tisseur de Destin : Influencez les événements dans le château à travers vos différents choix et déterminez qui vit ou meurt à chaque décision que vous prenez.
Des guerriers surnaturels : La revenante Rowena vous amènera à tester vos réflexes et vos aptitudes tactiques lors d'intenses combats en temps réel. Décimez vos ennemis en prenant le contrôle d'« Exemplars », des armes qui ont la capacité de se transformer en soldat légendaire.
Connaissance interdite : Avec Lucien, fabriquez des potions et autres objets utiles en suivant des recettes alchimiques. Utilisez des tactiques furtives pour vous frayer un chemin dans le château et y découvrir ses secrets.
Contenu de la « Vanguard Edition » :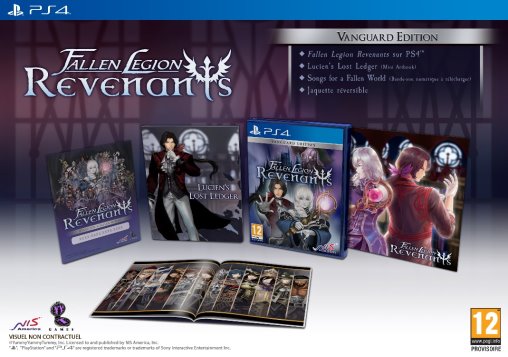 Le jeu Fallen Legion Revenants sur PS4™ ou Nintendo Switch™
Le mini artbook « Lucien's Lost Ledger »
Bande-son « Songs for a Fallen World » en téléchargement
Jaquette réversible
Informations :
Date de sortie : 19 février 2021
Plateforme(s) : PlayStation 4 et Nintendo Switch
Genre : Action RPG
Joueur(s) : 1
Texte : Anglais
Voix : Anglais
Pegi : 12
Editeur : NIS America, Inc.
Développeur : YummuYummyTummy, Inc.
Pour plus d'informations, rendez-vous sur le site : https://fallenlegiongame.com.
A propos de NIS America
En 2003, NIS America a été fondé en Californie afin de faire découvrir un pan particulièrement excitant de la culture japonaise en Amérique du Nord. Les membres de l'équipe de NIS America sont totalement dévoués à leurs fans. L'intérêt de ces derniers est au cœur de tout leur travail. Éditeur de contenus de loisir établi aux U.S.A., NIS America a pour ambition de continuer de croître et de s'améliorer.

NIS America est une filiale de Nippon Ichi Software, Inc., une société japonaise réputée pour ses JDR tactiques uniques, notamment Disgaea, Phantom Brave et Makai Kingdom. NIS America est également l'éditeur d'animes japonais, comme Toradora!, WAGNARIA!! et Katanagatari.
About Koch Media
The Koch Media Group is a global developer, publisher and distributor of video games, VR games, gaming hardware and merchandise.

The group's publishing activities, marketing and distribution extend throughout Europe, America, Australia and Asia. Koch Media has more than 25 years of experience in the digital media business and has risen to become a leading global publishing partner. The Koch Media Group runs a multi-label strategy with fully owned publishing units such as Deep Silver, Milestone, Vertigo Games and Ravenscourt which publish games for consoles, PC and VR platforms across all physical and digital channels.

Additionally, as global publishing partner Koch Media has formed long-term multi-national publishing collaborations with numerous game publishers including Bethesda, Capcom, Codemasters, Konami, Koei Tecmo, Sega, Square Enix, Warner Bros and many others. With its parent company in Höfen, Austria, and the Publishing HQ in Munich, Germany, Koch Media owns local publishing companies in Germany, UK, France, Spain, Italy, Sweden, the Netherlands, Austria, Switzerland, Poland, Australia, the United States as well as Japan and Hong Kong.

The Koch Media Group owns ten game development studios: Deep Silver Volition (Champaign, IL / USA), Deep Silver Dambuster Studios (Nottingham / UK), Deep Silver Fishlabs (Hamburg / Germany), Warhorse Studios (Prague / Czech Republic), Milestone (Milan / Italy), Voxler (Paris / France), Vertigo Games (Rotterdam /The Netherlands) and Flying Wild Hog (Warsaw, Rzeszów, Cracow / Poland). Additionally, the Koch Media Group collaborates with numerous independent development studios around the world.  

Part of the Koch Media Group is also Koch Films, a European independent film distributor with business primarily in Germany, Switzerland, Austria and Italy as a cinema, TV, online and Home Entertainment distributor. The Koch Media Group also owns Gaya Entertainment, a leading video game merchandise company in Munich, Germany, and the Quality Assurance Facility in Olomouc, Czech Republic.

Koch Media is an Embracer Group company.