LE JEU D'AVENTURE FANTAISISTE GIRAFFE AND ANNIKA EST
DÉSORMAIS DISPONIBLE !
Découvrez le trailer de lancement sur la chaîne YouTube de NIS America, ici : https://youtu.be/-ifUkzeUAYY.
NIS America est fier d'annoncer aujourd'hui la sortie de Giraffe and Annika sur PlayStation®4 et Nintendo Switch™. Plongez dans l'aventure magique et musicale d'Annika dans une édition physique limitée, intitulée la « Musical Mayhem Edition ».
Contenu de la « Musical Mayhem Edition » :
Le jeu Giraffe and Annika sur Nintendo Switch™ ou PlayStation®4
Une boîte collector
La bande-son « Songs of Spica » sur CD
Un set d'écussons « Familiar Faces »
Un Artbook « Annika's Adventure Log »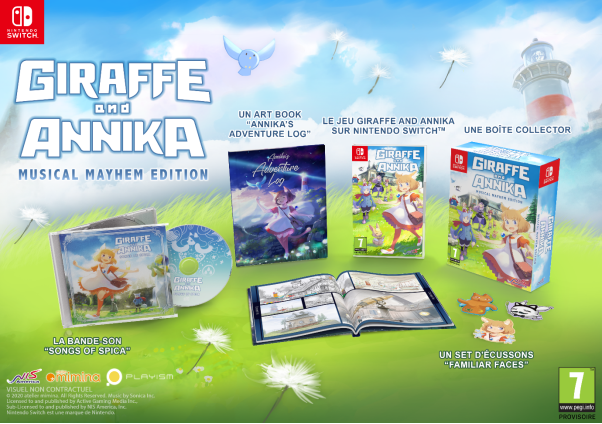 A propos de Giraffe and Annika :
Une aventure magique et remplie de mystère vous attend ! Une jeune fille nommée Annika se réveille soudainement sur une mystérieuse île nommée « Spica Island » à la suite d'un étrange rêve. N'ayant aucun souvenir expliquant sa présence sur l'île, Annika décide d'explorer les lieux et rencontre alors un garçon appelé Giraffe qui semble la connaître et lui demande de trouver trois fragments d'étoile dispersés à travers l'île qui permettront à Annika de retrouver ses souvenirs perdus. Dévoilez les mystères de « Spica Island » et embarquez dans une aventure magique et en musique avec un duo de héros hors du commun !

Caractéristiques du jeu :
Une aventure magique : Plongez dans le monde captivant et enchanté de Spica et regardez le récit de cette grande aventure au travers des scènes cinématiques de style bande-dessinée !
Bataille musicale : Combattez de nombreux boss et suivez le tempo avec la musique au cœur de vos affrontements grâce à un système de combat rythmé par la bande-son entraînante du jeu.
Devenez un chercheur de secrets : Explorez d'uniques donjons, amassez de nombreux objets attrayants et dévoilez les mystères de l'île.
Informations :
Date de sortie : 28 août 2020
Plateforme(s) : PlayStation 4 et Nintendo Switch
Genre : Aventure / Jeu de rythme
Joueur(s) : 1
Texte : Anglais
Voix : N/A
Pegi : 7
Editeur : NIS America, Inc.
Développeur : Atelier mimina
Pour en savoir plus, rendez-vous sur : https://nisamerica.com/giraffe-and-annika/.
A propos de NIS America
En 2003, NIS America a été fondé en Californie afin de faire découvrir un pan particulièrement excitant de la culture japonaise en Amérique du Nord. Les membres de l'équipe de NIS America sont totalement dévoués à leurs fans. L'intérêt de ces derniers est au cœur de tout leur travail. Éditeur de contenus de loisir établi aux U.S.A., NIS America a pour ambition de continuer de croître et de s'améliorer.

NIS America est une filiale de Nippon Ichi Software, Inc., une société japonaise réputée pour ses JDR tactiques uniques, notamment Disgaea, Phantom Brave et Makai Kingdom. NIS America est également l'éditeur d'animes japonais, comme Toradora!, WAGNARIA!! et Katanagatari.
About Koch Media
Koch Media is a global developer, publisher and distributor of computer and videogames, gaming hardware and merchandise.

The company's publishing activities, marketing and distribution extend throughout Europe, America and Australia. Koch Media has more than 25 years of experience in the digital media business and has risen to become a leading games publishing partner. Koch Media runs a multi-label strategy with fully owned content providers, including the labels Deep Silver, Milestone and Ravenscourt which publish games for consoles and PC across all physical and digital channels.

Koch Media has formed long-term multi-national publishing collaborations with numerous game publishers including Bethesda, Capcom, Codemasters, Konami, Koei Tecmo, NC Soft, Sega, Square Enix, Warner and many others. With its parent company in Höfen, Austria and the Publishing HQ in Munich, Germany, Koch Media owns local publishing companies in Germany, UK, France, Spain, Italy, Sweden, the Netherlands, Austria, Switzerland, Poland, Australia and the United States.

The Koch Media group owns six game development studios: Deep Silver Volition (Champaign, IL / USA), Deep Silver Dambuster Studios (Nottingham / UK), Deep Silver Fishlabs (Hamburg / Germany), Warhorse Studios (Prague / Czech Republic), Milestone (Milan / Italy) and Voxler (Paris / France). Additionally Koch Media collaborates with numerous independent development studios around the world.

Koch Media also owns Gaya Entertainment, a leading games merchandise company in Langenfeld, Germany and the Quality Assurance Facility in Olomuc, Czech Republic. Furthermore, with Koch Films the Koch Media Group runs an established film business. Koch Films is a European independent film distributor with business primarily in Germany, Switzerland, Austria and Italy as a cinema, TV, online and Home Entertainment distributor.

Koch Media is an Embracer Group company.