PRENEZ PART À DES COMBATS D'ENFER DANS POISON CONTROL !
Un nouveau trailer consacré au gameplay du jeu est disponible.

Découvrez ce trailer sur la chaîne YouTube de NIS America, ici : https://youtu.be/xhm9wNyyvhE.
NIS America dévoile aujourd'hui un tout nouveau trailer de gameplay pour Poison Control. Découvrez les histoires qui se cachent derrière les âmes déchues, débloquez un arsenal d'armes vénéneuses et purifiez la corruption à l'aide de vos armes à feu ainsi qu'avec les pouvoirs de Poisonette !
Poison Control sortira sur PlayStation®4 et Nintendo Switch™ le 16 avril 2021. La version Nintendo Switch™ sera disponible uniquement dans une édition spéciale intitulée « Contaminated Edition ».

À propos du jeu :
Les esprits créatifs derrière Penny-Punching Princess et The Princess Guide reviennent avec un conte sur la rédemption, teinté d'humour noir !
Le jour où un étrange phénomène emprisonna les esprits dans des manifestations vénéneuses de leur propre désespoir, seule l'arrogante Poisonette et son Âme Sœur amnésique, peuvent les purifier. Alors qu'ils s'aventurent à travers les différentes « Belles' Hells », ils vont se retrouver nez à nez avec des âmes déchues qui souhaitent s'échapper, mais également des créatures déformées, toutes nées de bourbiers toxiques. Quels secrets obscurs vont-ils découvrir sur le monde vénéneux qui les entoure… ainsi que sur eux-mêmes ?

Caractéristiques :
Une collaboration vénéneuse : Alternez entre Poisonette, qui est capable d'absorber le poison, et son Âme Sœur équipée d'une arme à feu, pour terrasser les créatures présentes dans les bourbiers toxiques. Débloquez de nouvelles armes telles que des bombes empoisonnées et du poison inflammable, en purifiant des zones et en améliorant les statistiques de Poisonette grâce aux choix que vous ferez pendant les dialogues.
Des rencontres énigmatiques : Les mystérieuses circonstances autour de la présence dans ce monde de Poisonette et de son Âme Sœur, n'attendent que d'être dévoilées. Pendant votre aventure, rencontrez de nouvelles Poisonette, chacune avec leurs propres intentions.
Corrompu et coloré : Avec une direction artistique tout aussi sinistre que charmante, ce conte décalé et tordu propose une expérience visuelle unique et viscérale.
Contenu de la « Contaminated Edition » :
Le jeu Poison Control sur Nintendo Switch™
Le mini artbook
L'extrait de la bande originale en format numérique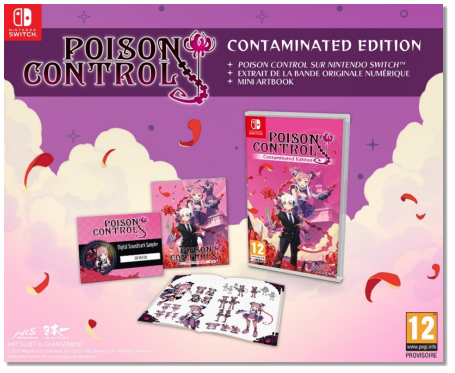 Informations :
Date de sortie : 16 avril 2021
Plateforme(s) : PlayStation 4 et Nintendo Switch
Genre : Jeu de tir
Joueur(s) : 1
Texte : Anglais
Voix : Japonais
Pegi : 12
Editeur : NIS America, Inc.
Développeur : Nippon Ichi Software
Pour plus d'informations, rendez-vous sur le site : https://nisamerica.com/poison-control
A propos de NIS America
En 2003, NIS America a été fondé en Californie afin de faire découvrir un pan particulièrement excitant de la culture japonaise en Amérique du Nord. Les membres de l'équipe de NIS America sont totalement dévoués à leurs fans. L'intérêt de ces derniers est au cœur de tout leur travail. Éditeur de contenus de loisir établi aux U.S.A., NIS America a pour ambition de continuer de croître et de s'améliorer.

NIS America est une filiale de Nippon Ichi Software, Inc., une société japonaise réputée pour ses JDR tactiques uniques, notamment Disgaea, Phantom Brave et Makai Kingdom. NIS America est également l'éditeur d'animes japonais, comme Toradora!, WAGNARIA!! et Katanagatari.
About Koch Media
The Koch Media Group is a global developer, publisher and distributor of video games, VR games, gaming hardware and merchandise.

The group's publishing activities, marketing and distribution extend throughout Europe, America, Australia and Asia. Koch Media has more than 25 years of experience in the digital media business and has risen to become a leading global publishing partner. The Koch Media Group runs a multi-label strategy with fully owned publishing units such as Deep Silver, Milestone, Vertigo Games and Ravenscourt which publish games for consoles, PC and VR platforms across all physical and digital channels.

Additionally, as global publishing partner Koch Media has formed long-term multi-national publishing collaborations with numerous game publishers including Bethesda, Capcom, Codemasters, Konami, Koei Tecmo, Sega, Square Enix, Warner Bros and many others. With its parent company in Höfen, Austria, and the Publishing HQ in Munich, Germany, Koch Media owns local publishing companies in Germany, UK, France, Spain, Italy, Sweden, the Netherlands, Austria, Switzerland, Poland, Australia, the United States as well as Japan and Hong Kong.

The Koch Media Group owns seven game development studios: Deep Silver Volition (Champaign, IL / USA), Deep Silver Dambuster Studios (Nottingham / UK), Deep Silver Fishlabs (Hamburg / Germany), Warhorse Studios (Prague / Czech Republic), Milestone (Milan / Italy), Voxler (Paris / France) and Vertigo Games (Rotterdam /The Netherlands). Additionally, the Koch Media Group collaborates with numerous independent development studios around the world.  

Part of the Koch Media Group is also Koch Films, a European independent film distributor with business primarily in Germany, Switzerland, Austria and Italy as a cinema, TV, online and Home Entertainment distributor. The Koch Media Group also owns Gaya Entertainment, a leading video game merchandise company in Munich, Germany, and the Quality Assurance Facility in Olomouc, Czech Republic.

Koch Media is an Embracer Group company.