Deep Silver et Volition sont ravis d'annoncer la sortie du Boss Factory, une toute nouvelle démo qui présente le meilleur et le plus osé de la personnalisation proposée par Saints Row. Cet éditeur de personnage est à télécharger gratuitement sur Xbox, PlayStation et sur l'Epic Games Store, dès aujourd'hui !
C'est ici que tout commence. Le développeur Volition a repoussé toutes les frontières du possible afin de vous permettre de créer le Saints de vos rêves. Relookez complètement votre Boss de la tête aux pieds. Il est maintenant l'heure de laisser libre cours à votre créativité !
Le Boss Factory vous laisse modeler votre Boss à votre guise. Pour la toute première fois, des options de personnalisation sont disponibles afin de rendre votre visage asymétrique en plus des traditionnels choix de tenues, de cheveux, de chaussures, d'accessoires et autres options corporelles. Bénéficiez d'une liberté totale afin de réaliser votre chef-d'œuvre. Vous pouvez également choisir parmi l'une des huit voix optionnelles et entre des dizaines d'émoticônes afin de personnaliser au maximum votre personnage.
Une fois satisfait de votre création, vous pouvez non seulement la sauvegarder pour que votre Boss soit prêt lorsque le jeu sortira, mais vous pouvez aussi la partager avec le reste du monde, ou encore télécharger les créations des autres joueurs sur SaintsRow.com [saintsrow.com]. En partageant votre Saints créé à partir du Boss Factory, vous bénéficierez également de deux casques supplémentaires à utiliser dans le jeu.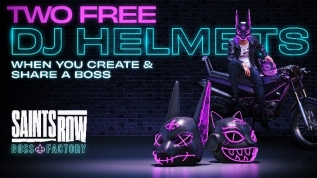 L'expérience sociale prend tout son sens grâce au hub du Boss Factory (accessible via SaintsRow.com [saintsrow.com]) où vous pouvez parcourir les galeries en retrouvant les autres créations des joueurs. Les utilisateurs enregistrés peuvent en effet partager leur Saints ou les télécharger directement depuis leur console ou PC à partir du site (où ils peuvent également les modifier et les améliorer si ils le souhaitent).
De plus, lorsque vous vous connectez à un compte Saints Row via le hub du Boss Factory, vous recevez en exclusivité le Lance Rocket des Marshall, accessible et prêt à être utilisé dans le jeu dès sa sortie.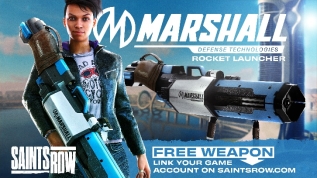 Des conseils et astuces sur comment débuter avec le Boss Factory sont disponibles sur le site de Saints Row. Les joueurs peuvent suivre le Twitter officiel du jeu pour participer à des défis hebdomadaires et à des compétitions, mais aussi pour voir les plus belles créations de la communauté.
L'éditeur de personnage de Saints Row est téléchargeable gratuitement dès maintenant via SaintsRow.com [saintsrow.com].
Saints Row sortira le 23 août 2022 sur Xbox One, Xbox Series X|S, PlayStation® 4, PlayStation® 5 et sur PC via l'Epic Games Store.
Les joueurs peuvent précommander Saints Row sur le Microsoft Store, PlayStation Store, l'Epic Games Store et chez leurs revendeurs habituels.
Pour plus d'information sur Saints Row rendez-vous sur SaintsRow.com [saintsrow.com], suivez le jeu sur Twitter, Instagram et sur Facebook.
©2022 and published by Deep Silver, a division of Koch Media GmbH, Austria. Developed by Deep Silver Volition LLC. Deep Silver, Saints Row, Volition and their respective logos are trademarks of Koch Media GmbH. All other trademarks, logos and copyrights are property of their respective owners. All Rights Reserved.
Deep Silver develops and distributes interactive games for all platforms. The Deep Silver label means to captivate all gamers who have a passion for thrilling gameplay in exciting game worlds by creating products of the highest possible quality, always focusing on what the customer desires.
Deep Silver has published more than 200 games since 2003, including its own brands like the open world extravaganza Saints Row, the zombie action franchise Dead Island, and the gritty, post-apocalyptic Metro series. Upcoming highlights from Deep Silver include the next entries into the Saints Row, TimeSplitters and Dead Island franchises. Deep Silver development studios include Deep Silver Dambuster Studios and Free Radical Design, both in Nottingham, UK; Deep Silver Fishlabs in Hamburg, Germany, and Deep Silver Volition based in Champaign, IL, USA.
For more information please visit
www.deepsilver.com
All product titles, publisher names, trademarks, artwork and associated imagery are trademarks, registered trademarks and/or copyright material of the respective owners. All rights reserved.
About Koch Media
The Koch Media Group is a global developer, publisher and distributor of video games, VR games, gaming hardware and merchandise.

The group's publishing, marketing and distribution activities extend throughout Europe, America, Australia and Asia. Koch Media has more than 25 years of experience in the digital media business and has risen to become a leading global publishing partner.

The Koch Media Group runs a multi-label strategy, with fully owned publishing units, such as Deep Silver, Prime Matter, Milestone, Vertigo Games and Ravenscourt; publishing games for consoles, PC and VR platforms across all physical and digital channels.

Additionally - as a global publishing partner - Koch Media has formed long-term multinational publishing collaborations with numerous game publishers including; Activision Blizzard, Bethesda, Capcom, Focus Multimedia, Giants Software, Koei Tecmo, Paradox, Sega, SNK, Square Enix, Techland, THQ Nordic, Tripwire, Warner Bros and many others.

With its parent company in Höfen / Austria - and the HQ in Munich / Germany - Koch Media owns local publishing companies in Germany, UK, France, Spain, Italy, Sweden, the Netherlands, Austria, Switzerland, Poland, Australia, the United States as well as Japan and Hong Kong.

The Koch Media Group owns 10 game development studios: Deep Silver Volition (Champaign, IL / USA), Deep Silver Dambuster Studios (Nottingham / UK), Deep Silver Fishlabs (Hamburg / Germany), Warhorse Studios (Prague / Czech Republic), Milestone (Milan / Italy), Voxler (Paris / France) , Digixart (Montpellier / France), Flying Wild Hog (Warsaw, Kraków, Rzeszów / Poland), Free Radical Design (Nottingham / UK) and Vertigo Games (Rotterdam / the Netherlands). Additionally, the Koch Media Group collaborates with numerous independent development studios around the world.

Part of the Koch Media Group is also Koch Films; a leading European independent film distributor with business primarily in Germany, Switzerland, Austria and Italy as a cinema, TV, online and Home Entertainment distributor. The Koch Media Group also owns leading video game merchandise companies Gaya Entertainment (Munich / Germany) and DPI Merchandising (Denver, Roseburg / USA) and a Quality Assurance Facility in Olomouc / Czech Republic.

Koch Media is an Embracer Group company.