VOID TRRLM();++ //VOID TERRARIUM++ ARRIVE LE 21 MAI 2021 SUR PS5™ !
Du contenu inédit sera proposé dans cette version spécifique à la PlayStation 5.
Découvrez le trailer d'annonce sur la chaîne YouTube de NIS America, ici : https://youtu.be/xEpxtr72ajk.
NIS America est fier d'annoncer aujourd'hui son tout premier titre PlayStation 5 avec void tRrLM();++ //Void Terrarium++. Cette version sera disponible en magasin dans une édition spéciale intitulée « Deluxe Edition » dès le 21 mai 2021 et proposera du contenu inédit tel que de nouvelles tenues vestimentaires, emotes, coiffures et maladies pour Toriko, ainsi que de nouveaux environnements à explorer.

À propos du jeu :
Dans un monde contaminé par des champignons toxiques, un robot de maintenance abandonné trouve une jeune fille prénommée Toriko, entre la vie et la mort. Il y a de fortes chances pour qu'elle soit le dernier être humain présent sur cette planète. Vulnérable face aux dangers dont regorge le monde extérieur, le robot, ainsi que son nouvel ami « FactoryAI », une intelligence artificielle mise hors service, construisent un refuge à l'intérieur d'un terrarium, pour lui assurer sa survie. Afin de prendre soin de Toriko et d'améliorer sa santé fragile, notre robot solitaire doit s'aventurer dans les terres polluées pour y récolter des ressources, tout en combattant des machines vagabondes et des créatures mutantes.

Le voile sur le futur incertain de Toriko et de l'humanité tout entière se lèvera au cours de l'aventure…

Caractéristiques :
L'espoir dans un monde froid : Par le créateur de A Rose in the Twilight et htoL#NiQ: The Firefly Diary, cette aventure poignante combine des graphismes adorables à une histoire sombre dans un univers post-apocalyptique et fantaisiste.
Mise à jour système : Void Terrarium++ propose des graphismes et performances améliorés sur Playstation 5. Cette nouvelle version inclut du contenu additionnel tel que de nouveaux emojis, coiffures, costumes, maladies et environnements.
Protocole de succession enclenché : La direction artistique colorée, le style de jeu roguelike unique et la mécanique consistant à prendre soin de Toriko font aussi leur retour !

Contenu de la Deluxe Edition :
Le jeu void tRrLM();++ //Void Terrarium++ sur PlayStation 5
La bande-son du jeu sur CD
Une jaquette réversible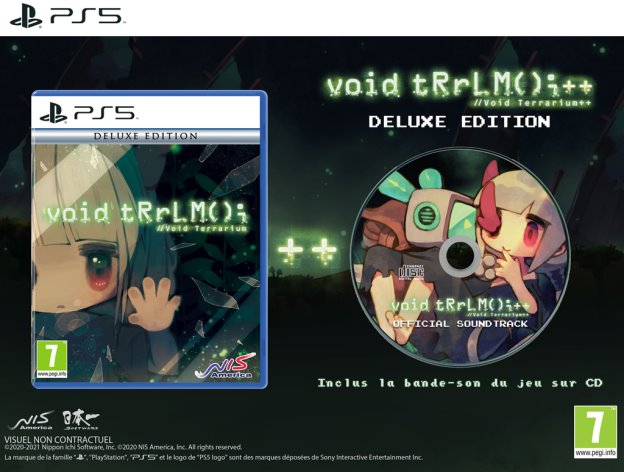 Informations :
Date de sortie : 21 mai 2021
Plateforme(s) : PS5™
Genre : Roguelike/RPG
Joueur(s) : 1
Texte : Anglais
Voix : N/A
Pegi : 7
Editeur : NIS America, Inc.
Développeur : Nippon Ichi Software, Inc.
Pour plus d'informations, rendez-vous sur : https://nisamerica.com/void-terrarium/plus.html.
A propos de NIS America
En 2003, NIS America a été fondé en Californie afin de faire découvrir un pan particulièrement excitant de la culture japonaise en Amérique du Nord. Les membres de l'équipe de NIS America sont totalement dévoués à leurs fans. L'intérêt de ces derniers est au cœur de tout leur travail. Éditeur de contenus de loisir établi aux U.S.A., NIS America a pour ambition de continuer de croître et de s'améliorer.

NIS America est une filiale de Nippon Ichi Software, Inc., une société japonaise réputée pour ses JDR tactiques uniques, notamment Disgaea, Phantom Brave et Makai Kingdom. NIS America est également l'éditeur d'animes japonais, comme Toradora!, WAGNARIA!! et Katanagatari.
About Koch Media
The Koch Media Group is a global developer, publisher and distributor of video games, VR games, gaming hardware and merchandise.

The group's publishing activities, marketing and distribution extend throughout Europe, America, Australia and Asia. Koch Media has more than 25 years of experience in the digital media business and has risen to become a leading global publishing partner. The Koch Media Group runs a multi-label strategy with fully owned publishing units such as Deep Silver, Milestone, Vertigo Games and Ravenscourt which publish games for consoles, PC and VR platforms across all physical and digital channels.

Additionally, as global publishing partner Koch Media has formed long-term multi-national publishing collaborations with numerous game publishers including Bethesda, Capcom, Codemasters, Konami, Koei Tecmo, Sega, Square Enix, Warner Bros and many others. With its parent company in Höfen, Austria, and the Publishing HQ in Munich, Germany, Koch Media owns local publishing companies in Germany, UK, France, Spain, Italy, Sweden, the Netherlands, Austria, Switzerland, Poland, Australia, the United States as well as Japan and Hong Kong.

The Koch Media Group owns ten game development studios: Deep Silver Volition (Champaign, IL / USA), Deep Silver Dambuster Studios (Nottingham / UK), Deep Silver Fishlabs (Hamburg / Germany), Warhorse Studios (Prague / Czech Republic), Milestone (Milan / Italy), Voxler (Paris / France), Vertigo Games (Rotterdam /The Netherlands) and Flying Wild Hog (Warsaw, Rzeszów, Cracow / Poland). Additionally, the Koch Media Group collaborates with numerous independent development studios around the world.  

Part of the Koch Media Group is also Koch Films, a European independent film distributor with business primarily in Germany, Switzerland, Austria and Italy as a cinema, TV, online and Home Entertainment distributor. The Koch Media Group also owns Gaya Entertainment, a leading video game merchandise company in Munich, Germany, and the Quality Assurance Facility in Olomouc, Czech Republic.

Koch Media is an Embracer Group company.