NIS America
dévoile aujourd'hui un nouveau trailer intitulé « Ghosts » pour
Yomawari: Lost in the Dark
, révélant par la même occasion sa date de sortie. Ce nouvel épisode de la série d'horreur
Yomawari
de
Nippon Ichi Software
sera disponible sur PlayStation 4 et Nintendo Switch le
28 octobre 2022
.
A propos du jeu :
Une jeune fille se réveille un jour dans une forêt sombre lui étant inconnue, sans aucun souvenir sur la manière dont elle s'est retrouvée là. A la recherche d'un chemin pour sortir, elle croise alors un mystérieux individu qui lui révèle qu'elle a été maudite. Afin de briser la malédiction, elle aura besoin d'explorer les rues de sa ville durant la nuit, afin de retrouver ses souvenirs perdus. Cependant, des esprits malveillants sont tapis dans l'ombre et la jeune fille devra courir, se cacher et fermer les yeux si elle souhaite survivre assez longtemps pour espérer briser la malédiction.
Caractéristiques :
•
La nuit continue
: Un nouveau chapitre de la série de jeux d'horreur sort de l'ombre ! Fans et nouveaux joueurs pourront plonger dans cette nouvelle histoire qui prend place dans un monde effroyablement familier.
•
Comme à la maison….hantée
: L'ambiance sonore angoissante et les environnements sinistres viennent accompagner de nouveaux fantômes, horribles et terrifiants, jamais vus dans la série.
•
Nouvelle peur, nouveau moi
: Pour la première fois dans
Yomawari
, vous pouvez personnaliser l'apparence de votre personnage en modifiant sa coiffure, sa couleur de cheveux, ses vêtements et ses accessoires.
•
Déviez votre regard du mal
: Faites tout ce qui est en votre pouvoir pour survivre aux terreurs de la nuit. Dévoilez spectres et secrets en utilisant votre lampe torche. Trouvez des indices en écoutant les battements de cœur de votre personnage pour détecter les fantômes proches et employez à bon escient la nouvelle mécanique de jeu qui consiste à fermer les yeux afin d'éviter le regard des esprits malveillants qui vous guettent.
Contenu de la « Deluxe Edition »
:
Le jeu Yomawari: Lost in the Dark
La bande-son numérique du jeu
Un mini artbook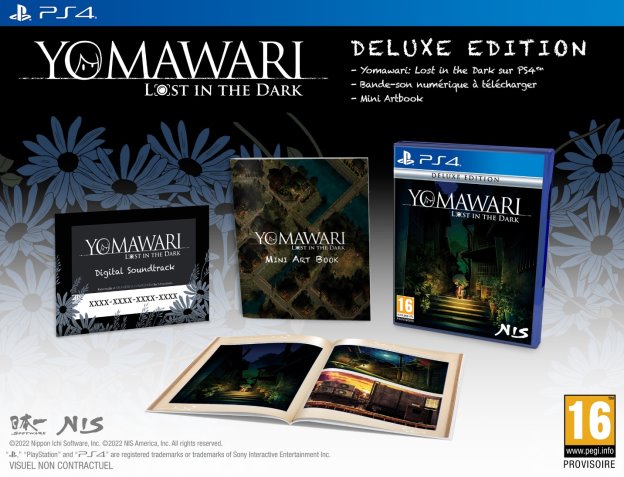 Informations :
Date de sortie : 28 octobre 2022
Plateforme(s) : PlayStation 4 & Nintendo Switch
Genre : Survival Horror
Joueur(s) : 1
Texte : Anglais
Voix : Japonais
PEGI : 16
Editeur : NIS America, Inc.
Développeur : Nippon Ichi Software, Inc.
Pour plus d'informations, rendez-vous sur :
https://nisamerica.com/yomawari/lost-in-the-dark
[nisamerica.com]
About NIS America
In 2003, NIS America was established in Southern California to bring exciting, one-of-a-kind Japanese culture to North America.

NIS America's team members devote themselves to the fans. Their respect for their fans is at the heart of everything they do. As an established entertainment publisher in the U.S., NIS America is committed to continuous growth and improvement.

NIS America is a subsidiary of Nippon Ichi Software, Inc., a company famous for its unique line of strategy RPGs with titles such as Disgaea and Labyrinth of Refrain: Coven of Dusk. In keeping with its mission, NIS America also publishes other popular Japanese games, like the highly acclaimed title, Ys IX: Monstrum Nox.
About Koch Media
The Koch Media Group is a global developer, publisher and distributor of video games, VR games, gaming hardware and merchandise. The group's publishing, marketing and distribution activities extend throughout Europe, America, Australia and Asia. Koch Media has more than 25 years of experience in the digital media business and has risen to become a leading global publishing partner.

The Koch Media Group runs a multi-label strategy, with fully owned publishing units, such as Deep Silver, Prime Matter, Milestone, Vertigo Games and Ravenscourt; publishing games for consoles, PC and VR platforms across all physical and digital channels.

Additionally - as a global publishing partner - Koch Media has formed long-term multinational publishing collaborations with numerous game publishers including; Activision Blizzard, Bethesda, Capcom, Focus Multimedia, Giants Software, Koei Tecmo, Paradox, Sega, SNK, Square Enix, Techland, THQ Nordic, Tripwire, Warner Bros and many others.

With its parent company in Höfen / Austria - and the HQ in Munich / Germany - Koch Media owns local publishing companies in Germany, UK, France, Spain, Italy, Sweden, the Netherlands, Austria, Switzerland, Poland, Australia, the United States as well as Japan and Hong Kong.

The Koch Media Group owns 10 game development studios: Deep Silver Volition (Champaign, IL / USA), Deep Silver Dambuster Studios (Nottingham / UK), Deep Silver Fishlabs (Hamburg / Germany), Warhorse Studios (Prague / Czech Republic), Milestone (Milan / Italy), Voxler (Paris / France) , Digixart (Montpellier / France), Flying Wild Hog (Warsaw, Kraków, Rzeszów / Poland), Free Radical Design (Nottingham / UK) and Vertigo Games (Rotterdam / the Netherlands). Additionally, the Koch Media Group collaborates with numerous independent development studios around the world.

Part of the Koch Media Group is also Koch Films; a leading European independent film distributor with business primarily in Germany, Switzerland, Austria and Italy as a cinema, TV, online and Home Entertainment distributor.

The Koch Media Group also owns leading video game merchandise companies Gaya Entertainment (Munich / Germany) and DPI Merchandising (Denver, Roseburg / USA) and a Quality Assurance Facility in Olomouc / Czech Republic.

Koch Media is an Embracer Group company.